Enquiry
Contact Us
Cricket Willow is currently open by appointment. For more information please contact:
CRICKET WILLOW
355 Hepburn - Newstead Rd
Shepherds Flat, Victoria
Australia 3461

Phone: (03) 5476 4277
Email: info@cricketwillow.com.au
Map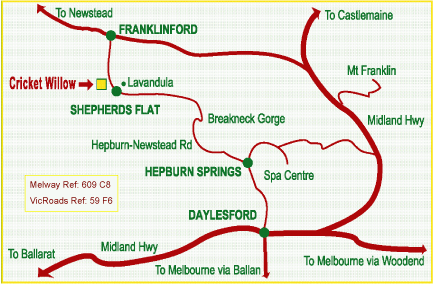 Cricket Willow is 10 kilometres north of Daylesford in Central Victoria.
From Daylesford follow Main Road towards Hepburn Springs. Before you reach the Spa Centre, turn left and follow the winding road for 5 kilometres to the small town of Shepherds Flat.
Keep an eye out for the signposts and also the odd kangaroo!
View larger map